Análisis preliminar del cuestionario señales de alerta de recaída (AWARE) en drogodependientes peruanos
Cristian Solano

Comisión Nacional de Adicciones, Colegio de Psicólogos del Perú, Perú

Anthony Copez-Lonzoy

Universidad de San Martín de Porres, Perú

https://orcid.org/0000-0003-4761-4272
Palabras clave:
Adicción, señales de recaída, AWARE 3.0, análisis factorial
Resumen
El objetivo del presente estudio fue analizar la estructura interna del cuestionario AWARE 3.0 en drogodependentientes. Fueron evaluados 240 sujetos en tratamiento residencial (hombres n=205 y mujeres n=35) entre 18 y 61 años con la escala de señales de alerta a recaída AWARE. Los análisis confirmaron la existencia de un solo factor, además se probaron cinco modelos confirmatorios incluyendo el factor de método que demostró influir en el modelo original. El análisis de confiabilidad obtuvo puntuaciones adecuadas tanto para variables observadas como variables latentes que representaron igualdad a nivel conceptual y de unidades (modelo congenérico y tau-equivalente). Los resultados indican un mejor ajuste solo con el modelo de ítems directos además de plantearse una versión breve. Estos hallazgos brindan una nueva perspectiva sobre la estructura del instrumento y una nueva versión que ayude a complementar la evaluación en el proceso de evaluación y detección de señales de alerta a recaídas.
Descargas
La descarga de datos todavía no está disponible.
Citas
Ato, M., López, J. & Benavente, A. (2013). Un sistema de clasificación de los diseños de investigación en psicología. Anales en psicología, 29(3), 1038-1059. doi:10.6018/analesps.29.3.178511
Bland, J. M., & Altman, D. G. (1997). Cronbach's alpha. BMJ: British Medical Journal, 314(7080), 572. doi: 10.1136/bmj.314.7080.572
Brown, T. A. (2015). Confirmatory factor analysis for applied research. Guilford Publications: USA.
Cheung, G. W., & Rensvold, R. B. (2002). Evaluating Goodness-of-fit indexes for testing measurement invariance. Structural Equation Modeling: A Multidisciplinary Journal, 9(2), 233–255. doi: 10.1207/s15328007sem0902_5
Cronbach, L. (1951). Coefficient alpha and the internal structure of tests. Psychometrika, 16(3), 297-334. doi: 10.1007/bf02310555
Dominguez, S. (2014b). ¿Matrices Policóricas/Tetracóricas o Matrices Pearson? Un estudio metodológico. Revista Argentina de Ciencias del Comportamiento, 6(1), 39-48
Dominguez, S. & Merino, C. (2015). ¿Por qué es importante reportar los intervalos de confianza del coeficiente alfa de Cronbach? Revista Latinoamericana de Ciencias Sociales, niñez y Juventud, 13(2), 1326-1328. doi: 10.11600/1692715x.2.2013
Dominguez-Lara, S. A., Merino-Soto, C., & Navarro-Loli, J. S. (2016). Re-análisis de la validez de constructo de la escala breve para la evaluación de la capacidad funcional (Sp-UPSA-Brief) de García-Portilla et al. Revista de Psiquiatría y Salud Mental, 9(2), 127-128. doi: 10.1016/j.rpsm.2015.11.001
Dunn, T. J., Baguley, T., & Brunsden, V. (2014). From alpha to omega: A practical solution to the pervasive problem of internal consistency estimation. British Journal of Psychology, 105(3), 399-412. doi: 10.1111/bjop.12046
Feldt, L. S. Brennan (1989). Reliability. Educational measurement (3rd ed., pp. 105–146). New York, NY: Macmillan.
Fornell, C., & Larcker, D. F. (1981). Evaluating structural equation models with unobservable variables and measurement error. Journal of Marketing Research, 18, 39- 50. doi: 10.2307/3151312
Holgado–Tello, F. P., Chacón–Moscoso, S., Barbero–García, I., & Vila–Abad, E. (2010). Polychoric versus Pearson correlations in exploratory and confirmatory factor analysis of ordinal variables. Quality & Quantity, 44(1), 153-166. doi: 10.1007/s11135-008-9190-y
Hu, L. T., & Bentler, P. M. (1999). Cutoff criteria for fit indexes in covariance structure analysis: Conventional criteria versus new alternatives. Structural equation modeling: a multidisciplinary journal, 6(1), 1-55. doi: 10.1080/10705519909540118
Kelly, J. F., Hoeppner, B. B., Urbanoski, K. A., & Slaymaker, V. (2011). Predicting relapse among young adults: Psychometric validation of the advanced warning of relapse (AWARE) scale. Addictive behaviors, 36(10), 987-993. doi: 10.1016/j.addbeh.2011.05.013
Lautenschlager, G. J., & Meade, A. W. (2008). AlphaTest a Windows program for tests of hypotheses about coefficient alpha. Applied Psychological Measurement, 32(6), 502-503. doi: 10.1177/0146621607312307
Lee, S.-Y., Poon, W.-Y., & Bentler, P. M. (1995). A two-stage estimation of structural equation models with continuous and polytomous variables. British Journal of Mathematical and Statistical Psychology, 48(2), 339–358. doi: 10.1007/BF02294660
Levy, P. (1967). The correction for spurious correlation in the evaluation of short‐form tests. Journal of clinical psychology, 23(1), 84-86. doi: 10.1002/1097-4679(196701)23:1<84::aid-jclp2270230123>3.0.co;2-2
MacCallum, R. C., Widaman, K. F., Zhang, S., & Hong, S. (1999). Sample size in factor analysis. Psychological methods, 4(1), 84. doi: 10.1037//1082-989x.4.1.84
Mayo, A. M. (2015). Psychometric instrumentation: reliability and validity of instruments used for clinical practice, evidence-based practice projects and research studies. Clinical nurse specialist, 29(3), 134-138. doi: 10.1097/NUR.0000000000000131
Merino-Soto, C., & Blas, E. S. (en presan, 2017). Escala breve de búsqueda de sensaciones (BSSS): estructura latente de las versiones de 8 y 4 ítems en adolescentes peruanos. Adicciones, 842. doi: 10.20882/adicciones.842
Miller, P. (2009). Evidence-Based Addiction Treatment. New York: Elsevier
Miller, W. R., & Harris, R. J. (2000). A simple scale of Gorski's warning signs for relapse. Journal of Studies on Alcohol, 61(5), 759-765. doi: 10.15288/jsa.2000.61.759
Miller, W. R., Westerberg, V. S., Harris, R. J., & Tonigan, J. S. (1996). What predicts relapse? Prospective testing of antecedent models. Addiction, 91(12s1), 155-172. doi: 10.1046/j.1360-0443.91.12s1.7.x
Montero, I. & León, O. (2002). Clasificación y descripción de las metodologías de investigación en Psicología. International Journal of Clinical and Health Psychology, 2(3), 503-508.
McDonald, R. (1999). Test theory: A unified treatment. Psychology Press: USA.
Petrides, K. V., Jackson, C. J., Furnham, A., & Levine, S. Z. (2003). Exploring issues of personality measurement and structure through the development of a short form of the Eysenck personality profiler. Journal of Personality Assessment, 81(3), 271-280. doi: 10.1207/s15327752jpa8103_10
Romano, J. L., Kromrey, J. D., Owens, C. M., & Scott, H. M. (2011). Confidence interval methods for coefficient alpha on the basis of discrete, ordinal response items: Which one, if any, is the best?. The Journal of Experimental Education, 79(4), 382-403. doi: 10.1080/00220973.2010.510859
Van Worner, K., & Rae, D. (2008). Addiction Treatment. Thompson: USA.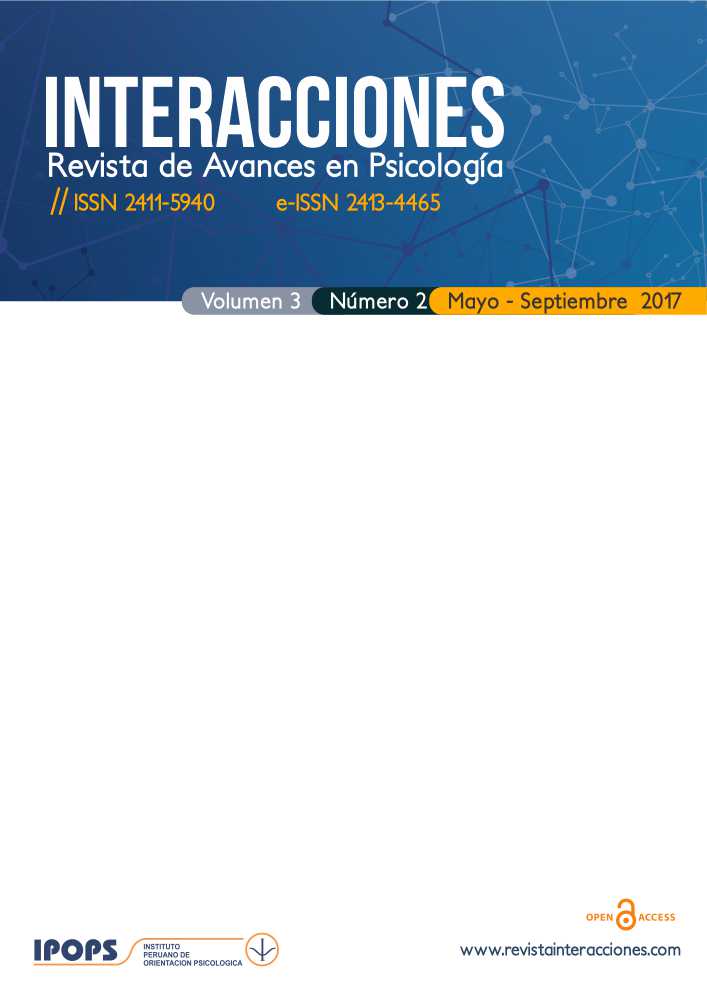 Cómo citar
Solano, C., & Copez-Lonzoy, A. (2017). Análisis preliminar del cuestionario señales de alerta de recaída (AWARE) en drogodependientes peruanos. Interacciones, 3(2), 87-94. https://doi.org/10.24016/2017.v3n2.65
Sección
Artículos originales
Derechos de autor 2017 Interacciones
Esta obra está bajo licencia internacional
Creative Commons Reconocimiento 4.0
.
Los autores conservan los derechos de autor y ceden a la revista el derecho de la primera publicación y de que puedan editarlo, reproducirlo, distribuirlo, exhibirlo y comunicarlo en el país y en el extranjero mediante medios impresos y digitales.
La versión digital de la revista se encuentra registrada bajo licencia de Creative Commons (Under Creative Commons Licence): Atribución 4.0 Internacional (CC BY 4.0). Por lo tanto, esta obra se puede reproducir, distribuir y comunicar públicamente en formato digital, siempre que se reconozca el nombre de los autores y de Interacciones.
Por ende, se establece que los autores pueden realizar otros acuerdos conductuales independientes y adicionales para distribución no exclusiva de la versión del artículo publicado en esta revista (p. ej.: Incluirlo en repositorios institucionales o publicarlo en un libro) siempre que se indique claramente que el trabajo se publicó por primera vez en esta revista.